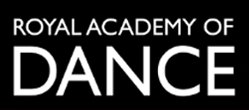 June Taylor's School of Dance provides a quality of excellence in dance education through the highly respected Royal Academy of Dance (RAD) examinations. The RAD is one of the largest and most influential dance education and training organizations in the world with more than 13,000 members spread across 79 countries. The RAD patron is HM Queen Elizabeth II. The examination syllabus is designed specifically for children's young growing bodies, providing a safe curriculum that is sensitive to how their bones and muscles develop. RAD is one of the most widely used classical ballet syllabi in professional academies and college dance programs worldwide. June Taylor's School of Dance and its faculty members are certified and registered through the RAD Exam system.
June Taylor-Dixon, school founder and artistic director, is recognized by the RAD to hold annual RAD examinations for Grades 1 through Advanced 2 and participate in Solo Seal. These exams are not mandatory, but they are highly recommended. Students of all ages enjoy working towards their exams as it keeps them on their toes and gives them goals to work towards. Exams provide students a feeling of personal achievement and serve to measure and recognize improvements. June Taylor-Dixon and her teaching faculty assess each student prior to exams to ensure they are comfortable and confident as they enter their exam and advance to the next level.
Special information for RAD Intermediate and Advanced students taking their examinations in February 2014.
BROKEN DOWNS or SOFT BLOCKS
A broken-down shoe which is also variously called a demi-pointe, pre-pointe or a soft-block shoe shares many characteristics with pointe shoes.  For example it's outer appearance resembles that of a pointe shoe and it has a toe box. although the box is softer and the wings (sides of the toe box) are typically not as deep as those found on pointe shoes.  Broken-downs are secured to the feet with ribbons in identical fashion to pointe shoes.  Unlike pointe shoes, however, broken-down shoes have no shank and, as a result, they do not provide the support necessary for proper pointe work.
Broken-down shoes are m ost often used to train dancers who are new to pointe technique and they are required by the RAD for all vocational levels except Intermediate Foundation.  They serve to acclimate dancers to the feel of wearing pointe shoes and to strengthen the ankles and feet in preparation for dancing on pointe in pointe shoes.  The toe box allows the dancer to experience the feel of a pointe shoe, while the insole and outsole work together to provide the resistance needed for developing foot and ankle strength.
Broken-downs can either be purchased or can be made by altering an old pair of points shoes.  There are advantages to both approaches and dancers will need to experiment a bit fo find what works best for them.  Purchased shoes are usually referred to as demi-pointe or soft point shoes and come in a limited range of styles and sizes.  While it can be challenging to find a pair of shoes that fits just right, it is important to remember that these shoes will need to be broken in and will usually fit better once they have been.  An old pair of pointe shoes will probably fit you better initially but it can be tricky to remove the shank without destroying the shoes completely, and old pointe shoes often look too ratty for exams.  We will leave it to you to experiment to find what works best for you.  Whatever route you choose, you should get these shoes approved by your teacher BEFORE you begin the breaking in process.
Both purchased demi-pointes or modified pointe shoes will need to be broken in.  The box should be soft but not completely destroyed and there would be some flexibility in the shoe.  Hammering the shoe with a hammer, getting the shoes damp and wearing for a short time, and standing on the shoe are all methods that have worked.   Just be careful not to completely destroy your shoe in the process – and remember that these shoes need to look good for your exams so try to protect the outer satin cover by first wrapping the shoe in a towel or soft cloth.
Latest news from the  Royal Academy of Dance
Click link to receive RAD recent news and information on specials, membership etc.