June Taylor-Dixon
School Founder and Artistic Director
RAD Registered Teacher
June Taylor-Dixon began her formal ballet training in Coventry, England at the Pattison's Academy of Dance and Drama. Pattison's Academy merged academic studies with extensive performing art education. Upon the completion of her rigorous training, she graduated as an Associate of the following: Cecchetti Ballet Society, Royal Academy of Dance, International Dance Teacher's Association, and the Imperial Society of Teachers of Dance. She then began her professional career, first dancing in a small company in England, then continuing her career with musical theater productions in the west end of London. Later, she toured as a musical theater dance and comedy duo, eventually going on to dance with the Wiesbaden Stadtsopera company in Germany.
Upon retiring from the stage, she chose to teach what she loved. She underwent further training as a teacher, and received teaching certificates from the Royal Academy of Dance, the International Dance Teacher's Association and the Imperial Society of Teachers of Dance. She then founded a school and opened a pre-professional jazz company in Wiesbaden, Germany. As the artistic director and founder of her school, she offered a strong curriculum based in the Royal Academy of Dance and Imperial Society of Teachers of Dance modern syllabus. Under her tutelage, fourteen of her students became associates of the International Dance Teacher's Association. Many of them later went on to teach and open their own dance schools.
In 1983, Miss June moved to Portland, Oregon to be married to Wayne Dixon. Following her passion for dance education, she founded June Taylor's School of Dance in 1984. Her keen eye for detail and heartfelt devotion to her students are only a few of the reasons her studio is the prestigious school it is today. Many of her students have gone on to dance in professional ballet companies (American Ballet Theater, Ballet Idaho, Colorado Ballet, Eugene Ballet, Greensboro Ballet, Houston Ballet, Milwaukee Ballet, Oregon Ballet Theater and Pacific Northwest Ballet), compete as finalists in international ballet competitions, and gain acceptance to distinguished schools (The Australian Ballet School, The Banff Centre, Carolina School of the Arts, Goh Ballet Academy, Houston Ballet Academy, Indiana University, School of Oregon Ballet, and Suny Purchase).
Kim Schroeder (A.R.A.D.)
Associate to the Royal Academy of Dance (A.R.A.D.)
Ballet, Tap and Jazz
Kim received her training with June Taylor-Dixon at June Taylor's School of Dance.  During those 14 years she completed all 15 levels of the Royal Academy of Dance, which earned her the title, Associate to the Royal Academy of Dance, (ARAD). From there she was accepted into the Milwaukee Ballet II program in Milwaukee, Wisconsin. While in Milwaukee she danced in many works by Michael Pink, including Dracula, The Nutcracker Suite, Don Quixote, Swan Lake and Scheherazade. After completing 2 years with Milwaukee Ballet II, Kim performed in the Edinburgh Fringe Festival in Edinburgh, Scotland with Burklyn Ballet as "Alice" in Alice in Wonderland. The following winter she was invited down to Key West to be in the 2007, 2008 & 2010 productions of the Nutcracker Key West. In 2009 Kim moved down to Key West where she started teaching ballet, tap, jazz and social dance as well as choreographing and managing at the Coffee Mill Dance Studio. She has performed and choreographed throughout the Key West community with Paradise Ballet Theater, Key West Contemporary Dance Company, Key West Burlesque, Keys Kids and The Waterfront Playhouse's productions of Spamalot and The Producers. In 2016 she moved back to Portland.
Rebecca Hasler
RAD Registered Teacher
Ballet and Jazz
Rebecca Hasler began her dance training at June Taylor's School of Dance at age 11. She completed her Royal Academy Grade exams and went on to Vocational exams, successfully passing her Intermediate Foundation through to Advanced 1. She was accepted into Northwest Dance Theatre and danced in Coppelia, Alice in Wonderland, Les Sylphide and Snow Queen in the Nutcracker.
In 2006 she decided to pursue a teaching career and enrolled in the Royal Academy of Dance for two years teaching program with June Taylor-Dixon as her mentor. In 2008 she gained her teaching diploma and was invited to teach at the Regional School of Ballet in Corvallis where she taught classes of every age level as well as beginning and intermediate Jazz, beginning Pointe, and adult ballet. On top of dance instruction, she took on the responsibilities of office manager while helping to coordinate and choreograph for the Nutcracker and Spring recital. In the Fall of 2010, Rebecca returned to the Portland area and is thrilled to be teaching at June Taylor's School of Dance again.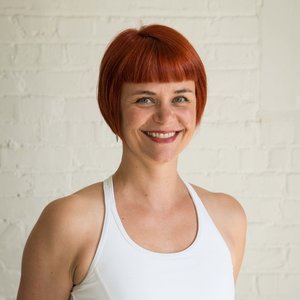 Laura Haney
Jazz and The Ellové Technique™
Laura Haney grew up in Colorado Springs, CO, and attended Walnut Hill School for the Arts in Natick, MA, where she studied dance and music. She was a member of River North Dance Company and Hubbard Street Dance Chicago, was a featured performer in the First National Tour of Fosse and a cast member of the Broadway musical A Christmas Carol at Madison Square Garden for two seasons. Laura was a company member of BodyVox from 2005-2008 and most recently performed with Lane Hunter Dance. She is a certified Pilates, BeMoved®, and Ellové Technique™ instructor and has taught numerous dance workshops and master classes across the country. She continues to teach dance in the Portland area at the studios including BodyVox, June Taylor's School of Dance, and Reed College. Laura spent 12 years directing the dance program and student company at Multnomah Athletic Club and is now the Business Manager for The Ellové Technique.
Rachel Fleming
RAD Registered Teacher
Ballet, Tap and Jazz
Rachel Fleming is a native of Portland, OR where she studied classical ballet (R.A.D.), jazz and tap with June Taylor-Dixon from the age of 7. In addition to her studies at June Taylor's School of Dance, Rachel continued her dance training at the University of Oregon and San Jose State University and has worked with tap mentors Lou and Patti Richards and Janet Descutner. Rachel has received her Bachelor of Arts Degree in Dance from the University of Oregon and is a certified Royal Academy of Dance teaching member. She has performed with The Skylark Tappers, University of Oregon Repertory Dance Company, Santa Clara Ballet and Northwest Dance Theatre. Rachel has been teaching at June Taylor's School of Dance since 2002 and hopes to encourage and inspire the love of dance in each of her students.

Cameron Smith (guest teacher)
Ballet and Jazz
Cameron Smith hails from  Portland, Oregon where she was trained in the Royal Academy of Dance method under Marjorie Soriano.  Ms. Smith also trained extensively in tap and jazz at June Taylor's School of Dance in conjunction with her technical ballet training. Ms. Smith has had an impressive professional dance career spanning fourteen years. She has danced as a soloist with Houston Ballet, principal with Ballet Memphis and principal with Ballet Florida. In her career she danced a wide range of both contemporary and classical roles by some of he dance worlds most renowned choreographers like Glenn Tetley, Paul Taylor, George Balanchine, Ben Stevenson, Sir Kenneth MacMillan, Christopher Bruce, William Forsythe, James Kudelka, Trey McIntyre, Stanton Welch, Vicente Nebrada, Lila York, Mark Godden, Sean Lavery and Peter Martins. Ms. Smith has been teaching since she herself was a student. She has been involved in teaching programs throughout her dance career at Houston Ballet Academy, Ballet Memphis School, at studios throughout South Florida and at the New American Youth Ballet and Conservatory. She has choreographed for Ballet Florida Step Ahead, Northwest Dance Theatre and for Jupiter Dance Academy. In addition to teaching at June Taylor's School of Dance, Ms. Smith is also the assistant artistic director of Northwest Dance Theatre. She is please to be back in the Portland area to share her experience and knowledge with the future dancers of tomorrow.
M'Liss Stephenson (guest teacher)
Modern
Born in Indianapolis, IN where she began studying dance as a child, performing in many Nutcracker productions with Indianapolis Ballet Theatre. She graduated from a performing arts high school and then earned a major in Modern Dance at the University of Utah. M'Liss was accepted as a full-time student at the prestigious Alvin Ailey School in New York City. That led to performances with Milton Meyers and Jolie Maffie. M'Liss is a founding member of Polaris Dance Theatre with current roles as a dancer and Rehearsal Director for Polaris Dance Theatre as well as the Junior Company Rehearsal Director. In addition to her passion and experience in dance, M'Liss is a world-class synchronized swimmer. She has competed in, as well as coached, synchronized swim teams in national, international and world competitions.
Thorey Mountain (guest teacher)
Jazz
(MPhil, BA Hons, RAD Teaching Certificate)
 Thorey Mountain, who is English/Icelandic, has recently returned to Portland following an extended stay in the UK where she was Head of Jazz Dance at two of the foremost vocational ballet schools, Elmhurst School for Dance in association with Birmingham Royal Ballet and The Dance School of Scotland which is affiliated with Scottish Ballet.  She also taught Mattox Jazz technique at London Studio Centre, a highly respected performing arts college.  During her sojourn in Britain Thorey also obtained her BA Honours degree in Theatre Dance (Dance Education) and her Masters (an MPhil in Educational Studies – Dance). She was also the Birmingham based tap tutor for the wildly successful West End production of Billy Elliot.  In recent years she has been thrilled to see three of her students star in the role of Michael on the London stage.
After full time training in classical ballet and theatre arts at Arts Educational School, Thorey continued her studies with Anna Northcote before becoming a member of the Sadler's Wells Opera Movement Group.  She also studied with American jazz dancer and choreographer, Matt Mattox and danced with his Jazzart Company at the Edinburgh Festival and at the Roundhouse in London.  Thorey appeared in the original West End productions of Applause, Pippin and A Chorus Line and had the unique opportunity of working with Bob Fosse. She also appeared extensively in BBC television productions, commercials and films, notably The Slipper and the Rose for Mark Breaux.
Bettina Megowan  (guest teacher)

Strength and Flexibility
Bettina Megowan was born and raised in Lahr, Germany.  In her childhood and youth she competed in rhythmic gymnastics, receiving her training at the German National Training Centers in Stuttgart and Dusseldorf.  She was a member of the of the German National Team for rhythmic gymnastics from 1981 to 1987 and competed in many national and international competitions including the World Championships in Valladolid, Spain in 1985.
After retiring from competition, Bettina went on to study at the University of Freiburg and earned a Masters of Education in Exercise & Sport Science and Geography with a minor in English in 1996.  The same year she moved to the US with her husband Noah Megowan .
In 2001 Ms Megowan received her Oregon teaching license for Physical Education and German from Portland State University.  She taught a Canby High School and Lake Oswego High School before taking time off for her three daughters.  In 2013 she completed the Education Foundation and Leadership program at George Fox University and added a Health Education endorsement.
Bettina was an instructor at the School of Oregon Ballet Theater for the past three years.  She has worked on flexibility and strength with all levels to support the dancers' development in their classical ballet education.
Jessica Zisa (guest teacher)
Ballet
Jessica Zisa began her Royal Academy of Dance training at June Taylor's School of Dance, where she completed her Grade 3 through Advanced 2 examinations with Distinction under the instruction of June Taylor-Dixon. In 2002, she went on to continue her professional dance training at the Goh Ballet Academy in Vancouver, B.C. She performed extensively with the Goh Ballet Company through China and British Columbia. She began dancing professionally with Colorado Ballet in 2005. She later went on to dance with Eugene Ballet and Ballet Idaho, and in 2009 began teaching at Ballet Idaho. Miss Jessica returned to Portland, and began teaching at June Taylor's School of Dance in 2010. Miss Jessica currently serves as social media and public relations coordinator for June Taylor's School of Dance.

Laura Green (guest teacher)
RAD Registered Teacher
Ballet
Laura Green, born in Beaverton, Oregon, began her dance training at June Taylor' s School of Dance at the age of 12. She has completed Grades 3 through 8 of the Royal Academy of Dance examinations as well as Intermediate through Advanced 1 of the RAD Vocational exams. She is currently working towards her Advanced 2.  Miss Laura has been teaching ballet at June Taylor's since 2005 and received her Royal Academy of Dance Teaching Certification in October 2008. In addition, Miss Laura has been teaching beginning Tap, Ballet, and Creative Movement at the Conestoga Recreation Center in Beaverton since 2006. She has taught from ages two to eleven and has lead and co-taught a number of dance camps over the summer for the Parks and Recreation Center. Miss Laura currently dances with Northwest Dance Theatre and has performed in Coppelia, Alice in Wonderland, Les Sylphides, Paquita, La Bayadere and the Nutcracker.