June Taylor's School of Dance is fully devoted to providing dancers of all ages an encouraging environment where they are given the opportunity to grow and excel in their dance education. We strive to deliver the highest quality of dance training, while nurturing each student's unique gift of talent and creativity. We wish to encourage our students to achieve their fullest potential – to support them as they grow artistically and academically, and develop into well-rounded individuals – nourished in body, mind and spirit.
The Director's Teaching Philosophy
June Taylor's School of Dance was founded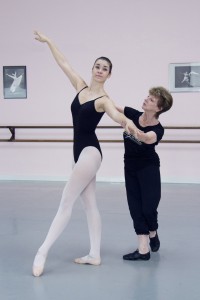 by our prestigious and internationally accredited teacher, June Taylor-Dixon. "Miss June" has carefully selected a teaching faculty with accreditation in extensive teacher training as well as professional dancing and teaching experience. They teach with the syllabus of the Royal Academy of Dance (RAD), a special teaching method developed with the knowledge of children's developmental stages. This allows young dancers to progress at a rate to which their bodies can safely grow and improve. Miss June strongly believes the study of physical anatomy and child psychology is a fundamental part of a teacher's education. She and her staff regularly attend teacher courses to continuously refine and improve their teaching knowledge. Under her directorship, her staff works together to follow a carefully planned syllabus in such a way that is appropriate for all body types. Each student has different natural amenities, but Miss June focuses on individual improvement according to each student's physical ability and learning style.